Here's What you'll Learn
We are happy to share that Hexamarvel has been featured as top eCommerce Developers in India by Clutch. Clutch is the leading online B2B ratings and reviews platform.
Hexamarvel Technologies Private Limited is a prominent web development company, based in India and New York, serving since 2014, that caters to all business verticals with all-inclusive Web Development and eCommerce Solutions. Our service focus concentrates on providing value-centric digital experiences, such as eCommerce, Digital Marketing, Web and Mobile Apps Development.
While there are several other reviews and rating sites for B2B services, being recognized by a leading platform like Clutch is indeed a matter of pride. This is because Clutch shares only verified reviews with customers with relevant data and most recent information about companies.
With years of experience in offering preemptive services and most sought-after solutions, today our profile boasts 5-star rating on Clutch, based on reviews from our highly satisfied clients.
We have shared some of the reviews below.
Online ink retailer CCS-Digital.com was seeking to resolve several issues with their website. We ended up fixing the issues, upgrading it to the latest version of Magento 2 and doing feature enhancements. Our team's commitment and expertise impressed our client, who gave us a five-star rating.
"They stuck with it until it was completed." ~Israel Goodman, President, CCS-Digital.com
Australian lifestyle management company Organise.Curate.Design. enlisted our help in developing a new website. They gave us five stars for our quick turnarounds, friendly attitude, and effective project management style, as well as the increase in sales that has resulted from our collaboration.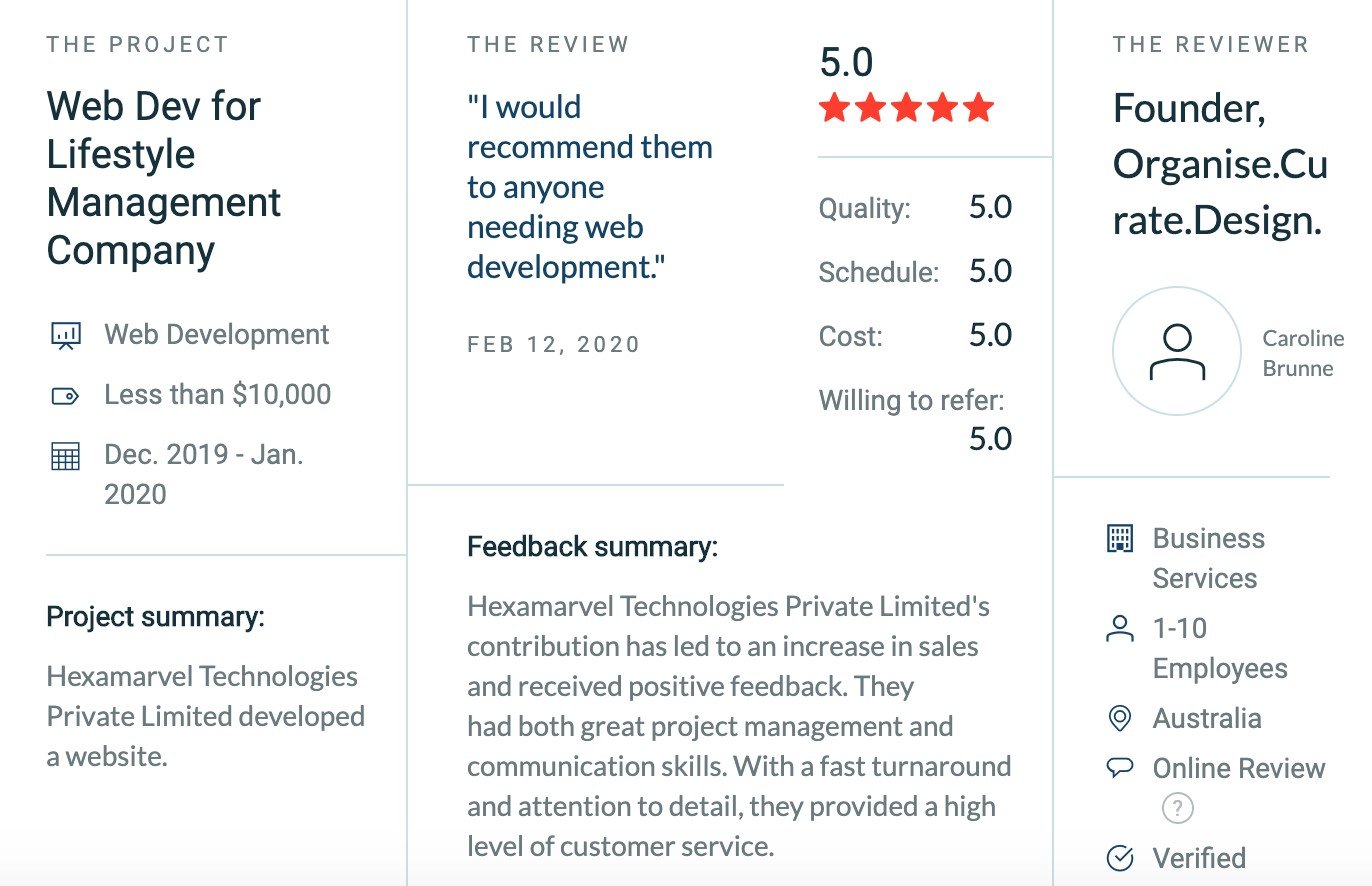 "I'm most impressed by their fast turn arounds and attention to detail. This was done with a high level of customer service." ~Caroline Brunne, Founder, Organise.Curate.Design
Hexamarvel Technologies is proud of the work we do as a dedicated and skilled team. We're excited about our clients' positive reviews and are grateful to them for letting us play a part in their successes.
We've also featured on Clutch's partner website, The Manifest, business news and how-to guide. It identifies top companies across various industries so that you can consult with leading agencies on their ranked lists. Hexamarvel Technologies is thrilled to be on The Manifest's list of top eCommerce development agencies in India!
At Hexamarvel Technologies, it's our priority to achieve only the best results for our valued clients. Interested in working with us? Contact us to find out how we can help your company grow!
Awards & Recognitions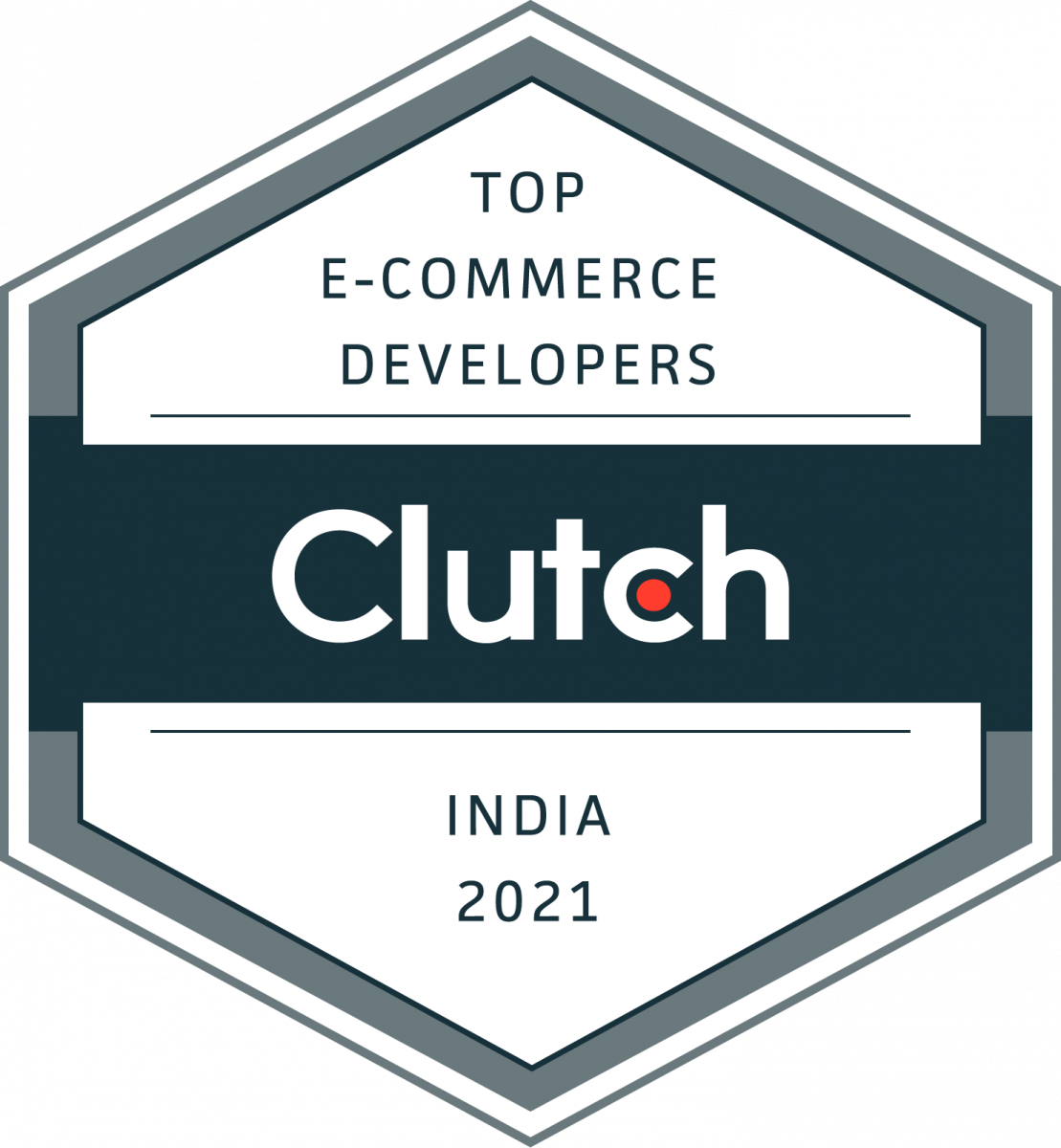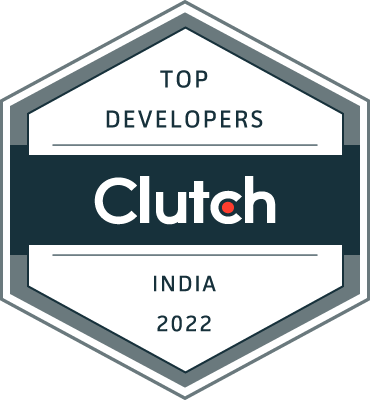 HOW MUCH DOES YOUR PROJECT COST?

CALL
WRITE
CHAT

Leave Your Phone No
and we will contact you for details about your project.

Let's talk about your project
Get a free, tailor-made project estimation in a business day

---
Book your FREE 30 minutes consultation with